Student Profile
---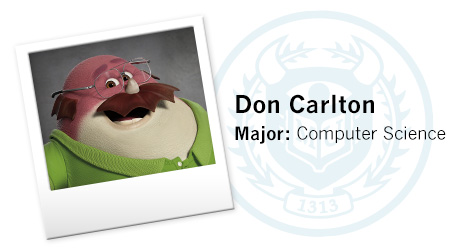 "When opportunity knocks, open the door." That's the motto of MU student Don Carlton, one of the many adult students on campus, coming back to pursue a new degree and a fresh start on life.

Tough economic times recently left Don looking for new employment. He studied his options and didn't see many positive outcomes of simply finding another sales job. Don applied to Monsters University because as he explains, "When I was young I had this crazy dream of becoming a Scarer, so I figured what the heck, why not go back to school and give it a try! Sorry, I didn't mean to swear."

The faculty at MU quickly fell in love with Don's spirit but encouraged him to focus his energy toward a more appropriate major, "The staff at MU reminded me that old Don didn't need an overhaul, just a tune up, something to make me a little more 'relevant' to the job market, so I said adios to scaring and hello to the far more terrifying and mysterious world of computers!"

The transition from working adult to "mature student" has not been without its challenges. Don says the hardest part about going back to school has been the long hours. "These kids stay up late," he says, "They pull all-nighters more often then I pull back muscles, which I can assure you is often!"

The University community is buzzing, too, about Carlton's unique offering to the academic experience. "It's refreshing," says Business professor Lauren Whemple, "he's the only student who talks with me about old records and how my family is doing, rather than pleading for yet another due date extension."

All in all, Carlton has a wise outlook on his life, "It's never too late to make a change!"

Wise words, indeed.